Flood, fire and storm: How to keep your business protected
June 23, 2019
Posted by:

preetkhabra

Category:

Insurance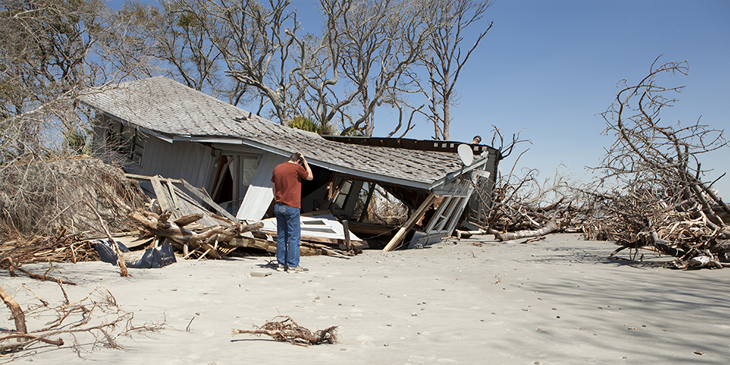 From droughts to floods and everything in between, businesses are facing a range of environmental risks and extreme weather events that can take a fatal bite out of your bottom line. Whether you're a farmer, a finance executive, run a manufacturing business or own a retail store, here's what you need to know about insurance for environmental and natural hazard risks.
---
Agriculture: Looking after our farmers
Farmers are fighting wars on multiple fronts. Recent droughts have put many farmers out of business, then there are other environmental risks such as excess rainfall, high winds, bushfires, pest plagues and wildlife damage that can also destroy crops – and livelihoods – in a flash. And if that wasn't enough to worry about, farmers must also consider their own compliance with environmental regulations such as the safe storage of contaminants.
Suggested policies: A typical crop insurance policy will cover the risks of chemical over-spray, while sudden and accidental pollution is covered by public liability insurance. Multi-peril crop insurance and named peril crop insurance also provide coverage against a range of environment threats including drought.
---
Professional services and finance: Taking care of business
Environmental disasters such as extreme weather events can take a significant toll on professional services and finance businesses. Losing power and internet or phone connections can disrupt business operations for significant periods, and natural disasters can physically damage office premises and essential equipment such as onsite servers. Professional services firms that predominately serve local businesses may also experience a drop in income if a natural disaster puts client businesses offline for an extended period.
Suggested policies: A property insurance policy that protects your professional services or finance business against damage caused by fire, flood and other natural disasters is a must. You may also consider insuring expensive equipment such as computer hardware and onsite servers, and a business interruption policy will help protect your income if a natural disaster closes down your operations for an extended period.
---
Manufacturing: Protecting the production line
In addition to the above natural hazards that could damage property or interrupt operations, many manufacturing businesses must also contend with environmental liability. That means manufacturing businesses are often legally and financially responsible for any environmental damage caused by their operations. This includes proper waste disposal, accidental chemical spills and gradual pollution.
Suggested policies: Environmental impairment liability insurance provides coverage against a range of environmental exposures, including onsite and offsite clean-up costs, legal costs associated with defending violations of environmental regulations and business interruption expenses.
---
Retail: Securing consumer spending
Retail businesses are also vulnerable to environmental risk factors. Most brick-and-mortar retail stores hold significant inventory on their premises, and natural disasters such as hail, cyclones and floods can not only cause structural damage, but also destroy your saleable goods. Storm damage from extreme weather events may also force you to close your doors while physical store damage is repaired.
Suggested policies: A comprehensive Business Insurance policy including property damage and business interruption is essential to provide cover where your buildings, contents and stock are damaged by extreme weather events such as storm, wind, rain and hail.
Check that your policy includes emergency response cover that pays your reasonable costs to make the premises safe and secure following an extreme weather event. This may include such costs as temporary repairs to make the premises safe or the costs of hiring security guards.
Important disclaimer – Steadfast Group Limited ABN 98 073 659 677, its subsidiaries and its associates.
The views expressed are those of the author only and do not necessarily reflect those of Steadfast.
This magazine provides information rather than financial product or other advice. The content of this magazine, including any information contained on it, has been prepared without taking into account your objectives, financial situation or needs. You should consider the appropriateness of the information, taking these matters into account, before you act on any information. In particular, you should review the product disclosure statement for any product that the information relates to it before acquiring the product.
Information is current as at the date articles are written as specified within them but is subject to change. Steadfast, its subsidiaries and its associates make no representation as to the accuracy or completeness of the information. Various third parties, including Know Risk, have contributed to the production of this content. All information is subject to copyright and may not be reproduced without the prior written consent of Steadfast Group Limited.